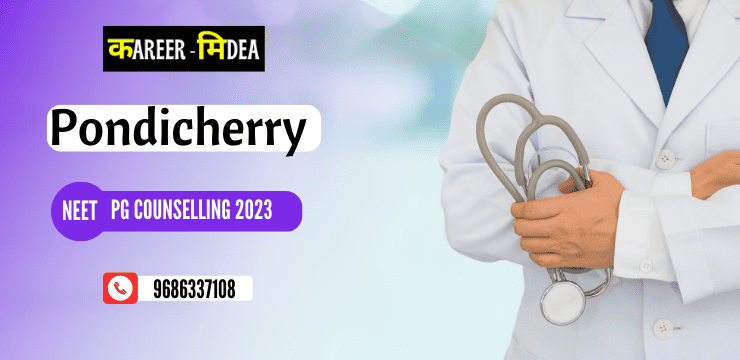 Pondicherry NEET PG Counselling : Centralized Admission Committee (CENTAC) is the organizing authority of NEET PG Counselling 2023 in the state. Admission for courses like Doctor of Medicine (MD), Master of Surgery (MS) and Postgraduate Diploma courses in the medical government and private colleges of Puducherry are offered through NEET PG scores
Pondicherry NEET PG 2023 Eligibility Critera
S.No.
Eligibility
Non- Eligibility
Nationality Criteria
1.
The candidate must have passed the final MBBS examination (for MD/MS) examination from any recognized Institution / University and must have completed a satisfactorily one-year compulsory rotating internship (for MD/MS Course) and must submit their internship completion certificate at the time of admission.
A candidate who has joined a Post Graduate Degree course in any branch and discontinued the course on any grounds after the cutoff date fixed by the National Medical Commission is not eligible to apply for two subsequent academic years.
A candidate seeking admission through CENTAC should be an Indian National. However, French Nationals residing in the UT of Puducherry and covered by the terms of the Treaty of Cession shall be treated on par with Indian Nationals for the purpose of admission to all the courses.
2.
A candidate, in order to become eligible for admission, must obtain a minimum required percentile in NEET-PG 2023, as prescribed by regulatory authorities such as the National Board of Examination, National Medical Commission, Ministry of Health and Family Welfare, etc., as the case may be.
A candidate who took an allotment for a PG Degree course in any branch in the final phase of counselling and did not joined the course on or before the cutoff date is not eligible to apply for two subsequent academic years.
Pondicherry NEET PG Counselling

Pondicherry NEET PG Counselling 2023 Process
CENTAC will conduct the Puducherry PG Counselling 2023 online mode. In order to appear for medical counselling, candidates need to enter their choices of medical colleges and courses in which they wish to get specialization. They can enter as many choices for the counselling process. Based on the choices filled, state merit rank and seats available, final admission will be granted.
1. CENTAC will conduct three rounds of MP PG Counselling 2023. Once the seats are allotted in the first round, the aspirants will be required to report to their respective colleges for document verification.
2. Once the first round of counselling is completed, the admission committee will conduct a second round of Puducherry PG Medical Counselling 2023.
3. In case vacant seats are left after the first two rounds of counselling, then a mop-up round will be conducted.
4. Candidates for whom any seats have not been allotted in the first and second rounds can appear for the mop-up round.
Reservation of Seats
| S.No. | Category | % of Reservation |
| --- | --- | --- |
| 1. | Open General | 50% |
| 2. | Other Backward Classes (OBC) | 11% |
| 3. | Backward Classes Muslims (BCM) | 2% |
| 4. | Most Backward Classes (MBC) | 18% |
| 5. | Extreme Backward Classes (EBC) | 2% |
| 6. | Backward Tribes (BT) | 0.5% |
| 7. | Scheduled Caste (SC) | 16% |
| 8. | Scheduled Tribe (ST) | 0.5% |
Pondicherry NEET PG Counselling
Horizontal Reservation
S.No
Category
% of Reservation
1.
Children/Grand Children of Freedom Fighter
(FF)
4 %
2.
A person with Disabilities (PwD)
5 %
3.
Wards of Ex-Servicemen (ESM)
1 %
4.
Candidates who are Meritorious in Sports (MSP)
1 %
Pondicherry NEET PG Counselling
Pondicherry NEET PG Counselling
Application Fee
We have provided th Pondicherry NEET PG counselling application form fees for rupees and non-refundable fees category-wise.
Type of Quota applied for
All (except
SC/ST/PwD)
SC/ST/PwD
Govt. Quota
(Puducherry Residents only)
Rs. 3000 /-
Rs. 1500 /-
Management Quota (All)
Rs. 5000 /-
Rs. 2500 /-
NRI (For PG Dental only)
Rs. 10000 /-
Rs. 10000 /-
Pondicherry NEET PG Counselling
Pondicherry NEET PG 2023 Registration Fees
In addition to the Application fee, For PG Medical (MD/MS) Counselling, candidates need to pay the Counselling and Registration fees for participating in counselling.
S.No
Round
Exit with forfeiture of fees
Ineligible for further counselling
Counselling and Registration Fee
1.
1st Round
If not joined
—
Nil
2.
2nd Round
If not joined
—
Government Quota –
General – Rs. 25,000 /-
(Rs.12,500/- for SC/ST/BT/OBC/
EBC/MBC/BCM)
Management Quota – Rs.2,00,000
3.
3rd Round
If allotted and not joined
If allotted
Counselling Fees – Rs.1000 /- (Non-refundable)
+ Full Tuition fees
4.
Stray Vacancy List
Rs. 5000 /- (Will be forfeited if the candidate declines the seat)
Pondicherry NEET PG Counselling
Documents Required for Pondicherry Neet PG Admission
NEET PG 2023 scorecard.
MBBS degree certificate and course completion certificate.
Compulsory Rotatory Residential Internship certificate.
Final MBBS Part II Mark sheets.
Permanent or Provisional Medical Registration Certificate issued by the MCI.
Community certificate, if applicable.
Class X Mark Sheet.
Class XII Mark Sheet.
Passport Size Photographs.
NEET PG 2023 Allotment Letter.